Introduction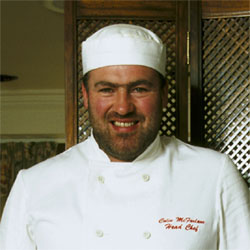 "My name is Colin McFarlane -
allow me to tell you about
myself and my company. I was
trained at Saisbury College of
Technology and the Ritz Hotel
in London. After working in
numerous hotels in the south I
moved to Sheffield in 1989. I
took up head chef positions
around the Sheffield area,
and worked as development
chef for the Posthouse, Corus
and Regal hotel chains. The chances are you've eaten one
of my products already."

Colin McFarlane
The Products: We have created a vending business in which the
machines operate as a sandwich shop within the confines of your
own business. With our assistance you will be able to choose the
products that will go into your own machines.
The Catering Business: Why experience the pressure of producing
that buffet or dinner when we can produce it for you to a highly
professional standard. All our products are delivered under strict
temperature control in order to give you added peace of mind.
Gourmet Vending and Catering Services - catering with care